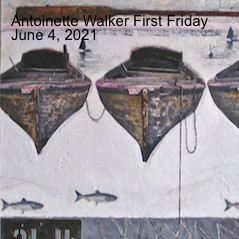 In my work I strive to tell a story through my experiences and imagination. My creativity and life stories are expressed with coastal marine themes that capture the wild beauty of my home, Alaska.
The medium of encaustic is my material of choice; a blend of molten beeswax, damar crystals, and pigment.
The inspirations for these paintings are weathered canneries, set net sites, and fishermen working their gear. My first hand experiences with the dangers and excitement of fishing draw me to the historical Bristol Bay. Here, ghosts of past storms emerge through the fog. From a 32-foot wooden sailboat without navigational equipment, to the eroding river banks, dilapidating canneries, all surfaces are beaten by heavy winds and torrential seas, developing the rustic landscapes I find beautiful and tell a compelling story.
I live in a coastal community where the natural elements of wind and salt are constantly altering the environment. With every year there are subtle changes and inspirations for a fresh perspective.
I'm drawn to these surfaces with textural layers that disclose a story of the lives they had. Using encaustic, painting, scraping, and scratching, I seek to reveal pieces that speak of the past and the present. For me, inspiration is often a mystery. One thing inspires while another fades away, the ideas warp and changes are absorbed and lost, as in the landscapes with eroding edge.